I was introduced to Jack's work 2 years ago by my good mate Baxter. He had recently been tattooed by Jack and when he rolled up his trouser leg I was blown away. Not only does Baxter have magnificent legs, but Jack's work was like nothing I'd seen before.
The tattoo was of a smoking rat in a flasher trench coat. It was glorious.
Straight away I hit up Jack to get tattooed and collaborate on designs for Flaash. Jack designed "Jack the Pooch' which can be found under all neck label tags and 'Calamity Jack' everybody's favourite Cowboy.
Baxter's magnificent leg. Plus Jacks glorious tattoo
Jack and I share a love of Tattoos and MMA, plus we both recently got married (To other people, not each other). So it made perfect sense to have a yarn and ask Jack some questions for Flaash Fuckeries.
Where did you grow up and how would you describe it?
I grew up just outside North London in a town not worth mentioning the name of haha the only part worth mentioning is Dave Vanian  (Singer of The Damned) was born there and used to drive a hearse about.
How did you get into tattooing?
I got my first tattoos from Martin Clark who learnt from legendary tattooist Lal Hardy. Over time we became friends and I started traveling around getting tattooed by other people like Chad Koeplinger, Deno and Nikki Balls etc mainly at conventions. One day Martin asked me to help out in the shop, from there i started working there as shop boy/desk boy. Being around Martin and hearing about the history of tattooing inspired me and i began to paint flash a lot. After 2.5 years of working there i began tattooing and the moniker 'tattoos for your enemies' was born. 
Your style is so unique, what and who inspires you?
 My friend Matt Lodder once described it as traditional tattooing through a carnival mirror and I think thats the best description haha i'm a huge fan of tattoo history so some of the designs are referenced from old flash. But a lot of them are ideas reimagined from antiques, I look for reference everywhere really. I look at the reference briefly then draw it from memory that's probably why it looks a bit warped!
The 'Once You Pop You can't Stop' of the tattoo world.Very hard to just get one tattoo from Jack. Stack'em!!
What's your jam at the moment?
I've been listening a lot to Bob Vylans album 'We Live Here' which is super fresh sounding. Other than that, podcasts about cage fighting. 
What was for lunch and what would you rate it out of 10?
For lunch I had Tarka Daahl which was leftovers from last nights dinner. 8/10 id say, hard to rate your own cooking haha
Everyone can agree 2020 has been a shit year for most, but what were the biggest positives for you? 
 It's been challenging for sure but I've tried to make the most of the lockdowns and time off from tattooing. Me and Rosie managed to get married which was still incredibly special despite some hurdles.
I painted lots of new designs and explored new ideas with them, including a new mental health sheet which was import to me to complete. I've tried to not fight something I can't change too much, attempted to remain a positive mindset about the situation and see the best in it. 
Jack has loads of PMA tattoos. This one is a belter.
What's your favourite item in your wardrobe?
I have a vintage blanket vest which is incredible its around 90 years old. 
What's your favourite instagram account to follow?
Smith St Tattoo, the greatest shop in the world.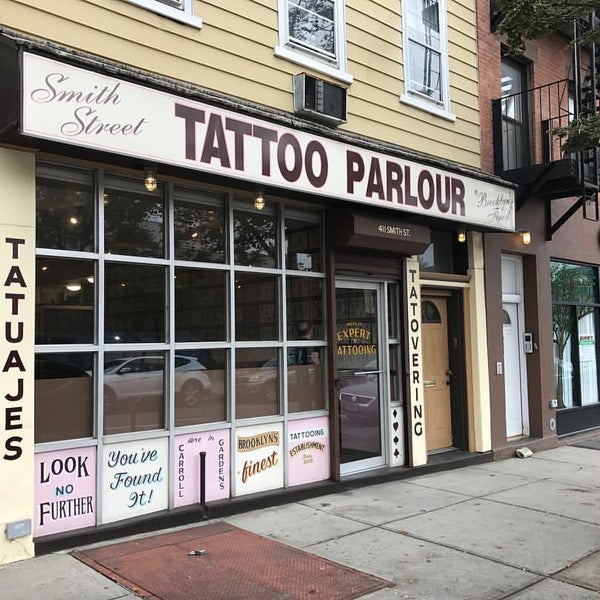 Smith St, Brooklyn NY. @smithstreettattooparlour. There is an awesome documentary on YouTube about them. Search for Tattoo Age - Dan Santoro
Do you have a tattoo you're most proud of? ( Either one your've done or one you've got)
Thats a hard question. The most special tattoo is my throat done by a master of Sak Yant tattooing from Thailand. It was the most spiritual tattoo experience I have ever had and the tattoo was applied freehand using the traditional method of hand poking with bamboo. It's healed perfectly and I feel a special connection with it that's different to the others. 
An Example of Sak Yant
Lastly what are your goals for the rest of the year and into 2021?
 Try to keep up a positive mindset carry that energy into 2021. Hopefully return to tattooing after lockdown 2.0 to work on some fun projects and continue ones i've already started. I feel very fortunate to have such amazing clients with great ideas, long may that continue! One day i want to be the guy who tattoos in the back of the ventriloquist doll shop, thats the dream. 
You can find Jack at Sang Bleu London, once shops open back up and follow him on Insta @tattoosforyourenemies.